1. Another Look at Detroit: Parts 1 & 2

Artists: Mary Ann Aitken, Keith Aoki, William James Bennett, Harry Bertoia, McArthur Binion, James Lee Byars, Nick Cave, James Chatelain, Liz Cohen, Destroy All Monsters, Robert Duncanson, Charles and Ray Eames, John Egner, The Henry Ford, Cyprien Gaillard, Michael Glancy, Brenda Goodman, Jay Heikes, Marie T. Hermann, Scott Hocking, Percy Ives, Ray Johnson, Mike Kelley, Arthur Nevill Kirk, Hughie Lee-Smith, Kate Levant, Morton Levin, Arnold Livshenko, Al Loving, Michael C. Luchs, P. Scott Makela, Tony Matelli, Katherine McCoy, Michael McCoy, Allie McGhee, Charles McGee, Julie Mehretu, Julius Garibaldi Melchers, Metroplex, Ann Mikolowski, Carl Milles, Wallace MacMahon Mitchell, Gordon Newton, Michele Oka Doner, Max Ortiz, Ellen Phelan, Pewabic Pottery, Bill Rauhauser, Scott Reeder, Jennifer Wynne Reeves, Richard Ritter, Diego Rivera, Eero Saarinen, Eliel Saarinen, Loja Saarinen, Dana Schutz, Zoltan Sepheshy, Robert Sestok, Jim Shaw, Shinola, Michael E. Smith, Mortimer Smith, Gilda Snowden, John Mix Stanley, Anna Sui, Graem Whyte, Robert Wilson.
Curated by Todd Levin
Marianne Boesky Gallery & Marlborough Chelsea
New York, New York
26 June - 8 August, 2014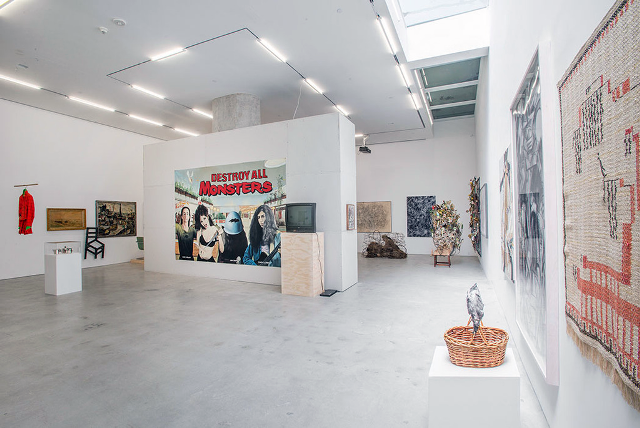 Image courtesy Marlborough Chelsea
The highest profile show this summer came from New York. An extensive look at Detroit, presented in two parts, the exhibition collected a wide swath of Detroit art (Diego Rivera, Mike Kelley) and design (Eames chair, Shinola bicycle).

The show generated quite a bit of media buzz including a New York Times summary (Holland Cotter. "'Another Look at Detroit: Parts 1 and 2'". New York Times. 24 July 2014) and a New York Observer review (M.H. Miller. "Happy Endings: Detroit Gets the Summer Show Treatment in Chelsea". New York Observer. 9 July 2014). Also worth reading is Animal New York's take (Rhett Jones. "Chelsea Art Gallery Takes Another Look at Detroit". Animal New York. 30 June 2014).


2. The National Endowment for the Arts funds Carpenter Exchange, a collaboration with Power House Productions, The Hinterlands, Carrie Morris Arts Production, Popps Packing, The Work Department and the City of Hamtramck
Hamtramck and Detroit, Michigan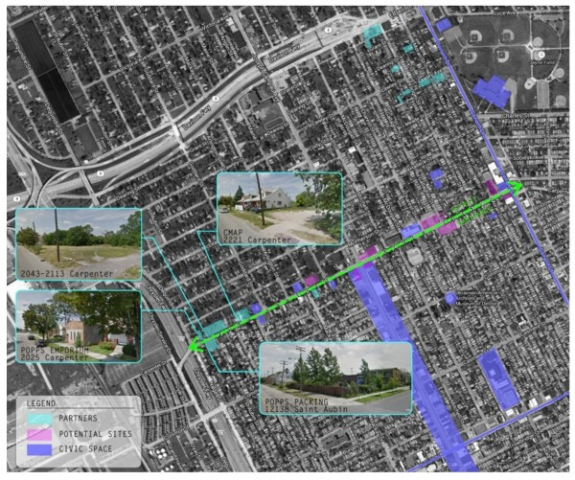 Image courtesy Power House Productions
The $100,000 Our Town program grant will fund Carpenter Exchange project to bring programming to the Hamtramck-Detroit border along Carpenter Street (Our Town Grantees. "Power House Productions". National Endowment for the Arts. 2014). Power House Productions describes Carpenter Exchange as emphasising the "seemingly invisible municipal divide, engaging the border's diverse cultures, hidden spaces, and complex histories" (MJ Galbraith. "$100K awarded for arts and culture programming along Hamtramck-Detroit border". Model D. 22 July 2014).
Events are scheduled over 18 months, September 2014 to February 2016, including a two-day Porous Borders Festival that will take place in May 2015.


3. 2739 Edwin 9338 Campau
9338  Campau
Hamtramck, Michigan
A white cube storefront arrived in Hamtramck. When the beloved 2739 Edwin closed last October, we hoped it wouldn't be long until owner Steve Panton opened the doors of his new space and his exhibition programming continued. Well worth the wait, 9338 Campau takes over where 2739 Edwin left off and features exhibitions and events with a bent towards education, discussion and community engagement by artists from across the globe. See photos of the space in action at infinite mile's "citings" September 2014.


4. In closing Wake... Young World
6121 Casmere
Detroit, Michigan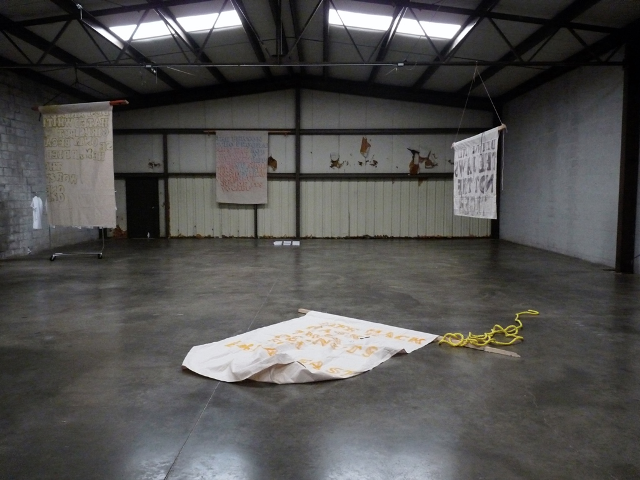 Image courtesy infinite mile

"citings" September 2014

, stephen garrett dewyer
WAKE Gallery closed its doors last spring. This Summer, a wide-open, cavernous warehouse space with 30-foot-tall ceilings and nearly 2,000 square feet of perfectly polished floors opened without electricity (lit only by skylights) called Young World. Since opening, Young World has only shown artists based outside of Detroit, both shows being ambitious, large-scale sculpture exhibitions.  Young World is currently opens to the public only for opening receptions, so don't miss them.
Check out this month's "citings" to see images from both exhibitions I Hope No One is Squandering Their Day Off: new works by Danny Titiriga and Virginia Poundstone: "The Wasteland and other Poems".


5. The Butcher's Daughter Gallery moves to New York
formerly:
4240 Cass Avenue
Detroit, Michigan
forthcoming:
Harlem, New York

On July 25, 2014, The Butcher's Daughter Gallery owner Monica Bowman posted on Facebook that the gallery plans to relocate to Harlem, New York. We asked Bowman for an update:
The Butcher's Daughter is currently under construction in Harlem and is due to be completed within the next month or so. The building is pre-War 1880's and has many distinguishing features that are being restored to retain the space's original character in accord with the new gallery design.

I plan to continue to work with many of the artists I have worked with in the past for upcoming exhibitions and events. The business is a cohesive project for me rather than one based on place or orthodox gallery practices. I am excited to bring these influences, which have been so impactful to me, to a larger audience and continue to bring synergy between the two cities I call home.

6. Calling PASSENGER[s], all aboard to Detroit
119 State Street
Detroit, Michigan

This August marked the first time the public was invited to see the beginnings of an international art residency/contemporary art exhibition space in Downtown Detroit. Floor 1 is an exhibition space curated by an advisory board of local artists (and others), while plans for floors 2 & 3 include studios and living spaces for international artists.

We asked co-founder Brian Barr to tell us about PASSENGER:
Our mission is to bring in significant artists from around the world to live, work and engage with the Detroit community for sustained periods of time. Residents will be selected from an international open call by our advisory board and jurors from around the country. PASSENGER will provide free live/work space and a generous monthly stipend to be among the best funded artist residencies in the country. We will be collaborating with the art departments of the colleges and universities in the area to incorporate education as a key component of our programming as well as to create greater cooperation and connectivity in Metro Detroit's cultural community and institutions. Our exhibition programming will focus on showcasing the work of our resident artists, and guest curators, along with the very best Detroit area artists to provide them with a venue to showcase their work with high visibility and profile. PASSENGER seeks to champion work that exceeds the ability of the market to support in scale or content.

7. Detroit-based artist Dylan Spasky's Foot Foot shows in Brooklyn
Cleopatra's
110 Meserole Avenue
Brooklyn, New York
29 June-10 August 2014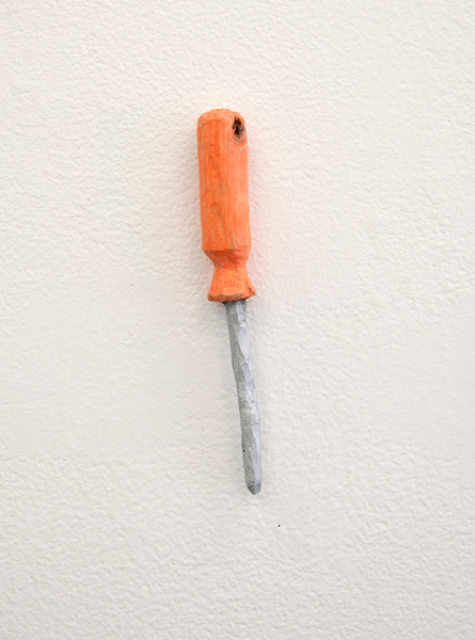 Dylan Spasky
Screwdriver, 2013
Image courtesy Cleopatra's, Marc Tatti

Dylan Spasky's solo show Foot Foot in Greenpoint collects sculptures of everyday objects presented in a hand-crafted, cartoon form.

In exchange, Cleopatra's Bridget Finn and Erin Somerville (both Detroit Metro natives) selected video works by Sarah Dornner, GOD, Sara Magenheimer, Virginia Overton, Jacolby Satterwhite and Matthew Schlanger  for a one night screening at CAVE gallery August 8th. Check out images from Screenings in ∞  mile's September 2014 "citings".


8.Matvei Yankelevich reviews "James Lee Byars: I Cancel All My Works at Death"  
Artforum. Volume 52: Number 10. Summer 2014: p. 372

Last Winter, Brooklyn-based writer and Ugly Duckling Presse founding editor and co-executive director, Matvei Yankelevich moved to Detroit to run Salt & Cedar for the season. Amongst the many book talks, poetry readings and exhibitions he organized, he also wrote a review of MOCAD's Spring show James Lee Byars: I Cancel All My Works At Death (7 February - 4 May 2014) for ArtForum. Yankelevich describes the particular hand of Triple Candie (curatorial duo Shelley Bancroft and Peter Nesbett) in presenting Byars, an artist whose own self-presentation was amorphous and fanciful. Subscription required.


9. Sculpture Magazine Review of (in)Habitation
Roger Green. "Detroit - "(in)Habitation", Museum of Contemporary Art Detroit (MOCAD)". Sculpture Magazine. Volume 33: Number 6. July/August 2014.

A year after the show, but still worthwhile, Sculpture Magazine published Roger Green's review with high praise for the 2013 summer MOCAD exhibition, (in)Habitation (7 June - 28 July 2013). Green is a metro-Detroit based art critic who posits the very notion of habitation in the landscape of Detroit; inquiring about what it entails, how its understood and how the work in the exhibition critiques, counters and forces uneasy questions about the mundane/banal/everyday but necessary act. (note: the review erroneously spells artist Osman Khan's name). Subscription required.


10. Detroit-based Artist Kate Daughdrill featured in Cosmopolitan
Jill Filipovic. "Get That Life: How I Became an Urban Farmer and Artist". Cosmopolitan. 25 August 2014.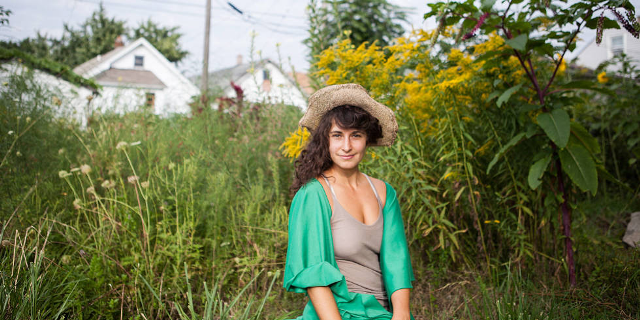 Image courtesy Cosmopolitan, Ali Lapetina
Cosmopolitan magazine gets in on the Detroit game by profiling Detroit artist and urban farmer Kate Daughdrill. Read more of Kate's experience creating art spaces, her Detroit Soup micro-grant project and what she has in store.


11. MOCAD's Mobile Homestead takes a summer vacation
MOCA, LA
250 South Grand Avenue
Los Angeles, California  90012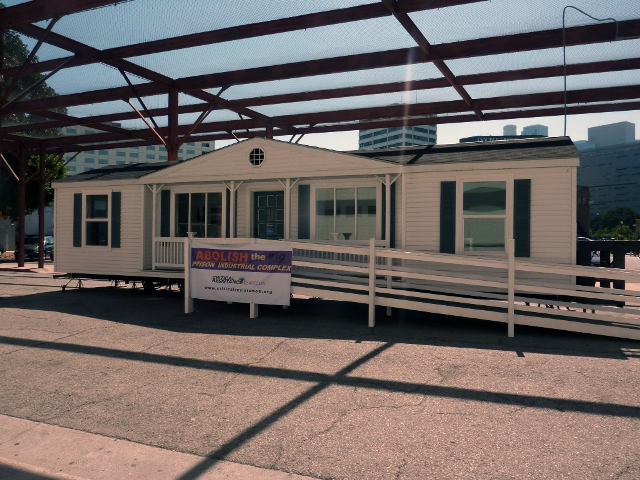 Mike Kelley's Mobile Homestead at MOCA, LA, July, 2014. Image courtesy infinite mile "citings", July-August 2014, Jennifer Junkermeier
Mike Kelley's Mobile Homestead saw the west coast this summer, traveling to MOCA in Los Angeles for a Mike Kelley retrospective from 29 May-28 July 2014 (note: the artnet article incorrectly lists June 28 [Sarah Cascone. "Detroit Sends Mike Kelley's Mobile Homestead to Los Angeles". artnet news. 30 May 2014]). The Homestead hosted quite a few social advocacy events including programming by the Los Angeles Poverty Department, and Los Angeles Community Health Project, while the American Red Cross Blood Services held a blood drive and the AIDS Healthcare Foundation Mobile STD Testing Unit provided free HIV/AIDS screenings (Deborah Vankin. "Mike Kelley's 'Mobile Homestead' rolls into Los Angeles". Los Angeles Times. 30 May 2014).


12. Bruce Weber photographs presented by Condé Nast
Detroit Institute of Arts
5200 Woodward Avenue
Detroit, Michigan  48202
20 June - 7 September 2014
Image courtesy Detroit Institute of Arts, Detroit: Bruce Weber, Bruce Weber
Bruce Weber first visited Detroit in 2006 on  assignment for W Magazine. This year, he returned to work with Shinola for an ad campaign. Over a lunch conversation with Condé Nast's artistic director and Vogue editor-in-chief Anna Wintour, the idea for an exhibition of Weber's photographs presented at the DIA came to fruition.
Hour Detroit (Casey Nesterowich. "The Eye of Bruce Weber: Detroit stars in photographer's DIA exhibit". Hour Detroit. June 2014) and i-D (Rory Satran. "bruce weber's love letter to detroit". i-d. 19 June 2014) each ran interviews with Weber. They reveal Weber's point of view when he photographed Detroit. For example, while speaking with i-D, Weber notes "people in Detroit get really dressed up for church, graduations, homecomings, and birthdays. I really love to photograph that feeling of celebration." In both, he mentions his experience at the Kronk Gym. These interviews expose a Weber obsessed with quaint tradition, family and ceremony. Detroit: Bruce Weber ran from June 20 to September 7, 2014.


13. Bankruptcy Exit-Plan and "Grand Bargain" on Trial
Detroit, Michigan

A consortium of foundations, corporations and the State of Michigan have pledged $816 million over 20 years to fund obligations to Detroit pensioners. With the trial underway, the Detroit Free Press (Nathan Bomey. "10 key questions to watch for at Detroit's historic bankruptcy trial". Detroit Free Press. 31 August 2014) has a few key questions to pay attention to in the forthcoming months. The "grand bargain" would treat unsecured creditors differently, paying the bond issuers much less than pensioners. Legal justification is required to adjust debt on a separate basis. Plus, the court must determine the value of the DIA's art collection in dollars and if the City may protect the collection in a transfer to an independent nonprofit organization. The New York Times explains certain intricacies of Chapter 9 Bankruptcy. Reserved for municipalities, only the City may present a plan to exit bankruptcy. Neither the court nor creditors may make amendments or submit a counter-plan. "In the end, the up-or-down decision will belong to Judge Rhodes" (Monica Davey and Mary Williams Walsh. "One Judge to Decide the Future of Detroit". The New York Times. 31 August 2014).


14. Big Paintings @ The Factory
333 Midland
Highland Park, Michigan  48203
19 June - 31 August 2014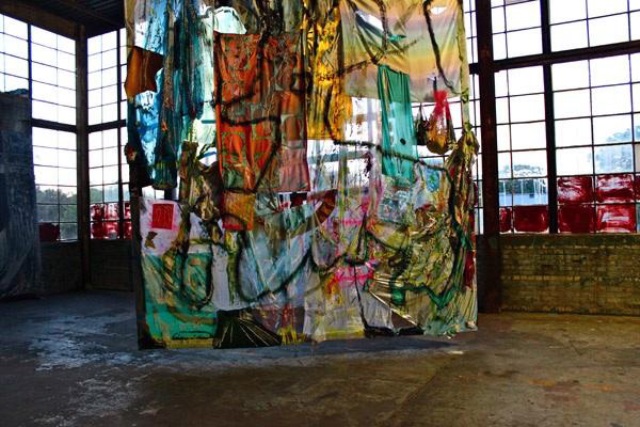 Jonathan Rajewski
Untitled, 2014
Image courtesy The Knights Art Blog Detroit, rsharp
Big Paintings @ The Factory was organized by the Cass Corridor artist Robert Sestok. The show features the large-scale painting work of 48 artists who Sestok invited from Detroit and the East Coast (Rosie Sharp. ""Big Paintings @ The Factory," a triumph of massive proportions". Knight Arts. 24 June 2014). (Sestok was included in Todd Levin's Another Look at Detroit: Parts 1 & 2). Formerly the Lewis Metal Stamping and Manufacturing Plant, Sestok and Robert Onnes converted the building into The Factory, which features over 20,000 square feet of exhibition space.  Keep an eye out for more shows in 2015.


15. apexart chooses Detroit for exhibition this Fall

apexart, a non-profit art space located in New York City announced an exhibition in Detroit through its Franchise program.  apexart's Franchise program provides administrative and budgetary support to present a group show anywhere in the world outside of NYC. Yvette Granata will curate Detroit: Trans-Farm that looks past just bring farms into the city but envisions a "contemporary versions of a plant-based urbanity, where city life, landscape, art and media all connect to mold contemporary urban-farm life" (apexart. "Trans-Farm: organized by Yvette Granata"). Located at MUFI Farms and Russell Industrial Center, Trans-Farm is on view September 13 to October 11, 2014.


16. Packard Plant Banksy ownership and sale is back in question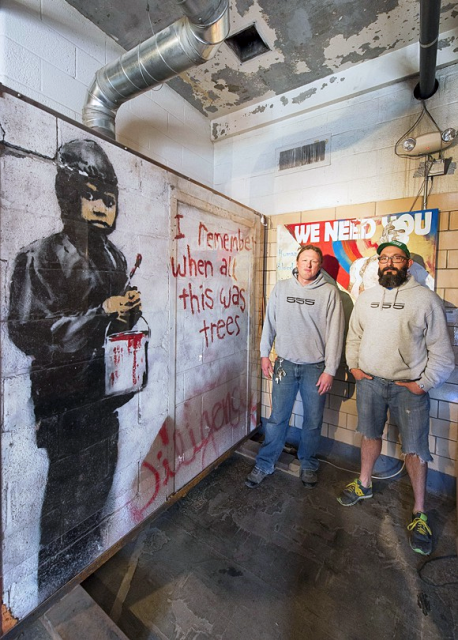 Image courtesy MetroTimes, Doug Coombe
On March 7, 2014 Motor City Muckraker reported that 555 Gallery artists would now be soliciting offers to sell a mural attributed to Banksy from the Packard Plant.  The artists at 555 Gallery originally removed the mural from the Packard Plant for preservation in 2010. "After a legal battle with the [then] owner of the Packard Plant, the gallery reached a $2,500 agreement to legally take ownership of the mural" (Steve Neavling. "Banksy mural for sale! Detroit gallery offers up rare find". Motor City Muckraker. 7 March 2014). Now the new owner of the Packard Plant, Fernando Palazuelo, wants the mural back, seeking to get the work returned to the site as a donation (Lee DeVito. "Packard Plant owner wants Banksy painting returned to site". Metro Times. 20 August 2014).