Popp's Packing
12138 Saint Aubin Street, Hamtramck, Michigan 48212
show runs 4-24 October 2014

The concrete floor of Popp's Packing transforms into a miniature urban landscape in Sarah Wagner's sculpture-installation Yard/Zone (2014). Rows of shoe-box sized houses constructed of heavy, cream-colored paper block the gallery into a scale-model city that looks quite familiar. Look a bit closer, and a local might find her own house among them. The structures, designed to copy exactly the layout of specific buildings in Hamtramck's Bangla Town neighborhood, are uncanny, lit as they are to cast the long, gap-toothed shadows of a summer evening. The viewer is a giant blundering through these incredibly small, vulnerable settlements.



The viewer is not the only giant. Shift one's gaze upward, and the miniature city seamlessly becomes an orderly garden patrolled by large, colorful pheasants and, toward the edge, a lone feral dog, its body curled defensively, snarling head turning toward the viewer. The animals that populate Wagner's garden are delicate, gestural armatures with translucent organza skins—something in the otherworldly structure and unbalanced scale that they and the houses have in common make them equally feasible. Clearly a fantasy landscape, Wagner playfully distorts the town to make it appear as a regenerative mirror, a way to channel the souls of these objects, and use them to weave a narrative that ties urban phenomena such as gardening, wild animals that populate cities, destruction and neglect back to a symbolic, pre-birth moment.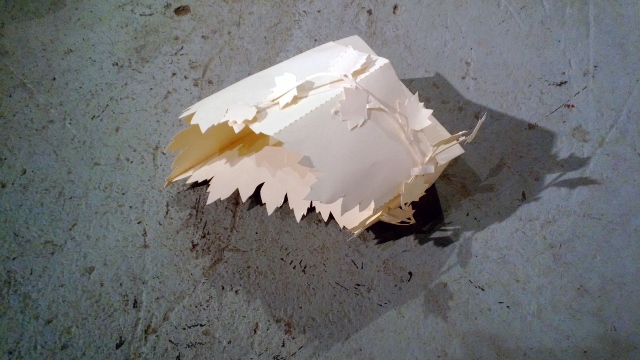 All of the objects in Wagner's installation have a slightly embryonic feel due to their delicate parts and construction in keeping with her interest in seams, centers of the moment of making or, as she writes in her statement, "[t]wo realities united to symbolically create a third thing," and with her exploration of hope as a condition that can foster real change. Such hope manifests formally in a childlike way, although with a strong and mature fabrication. The fabrication, perhaps, keeps the installation from appearing childish, with its toy houses and rangy stuffed animals. It cuts close to childishness in moments that could come off facile but are, instead, beautiful and complex, like the way burned or crumbling houses are indicated with stylized floral cutouts in their structures. The cutouts are modeled on common city plants such as goosefoot and motherwort, bringing the city-garden narratives full circle, symbolized in scale, surface detail, and metaphor. Like a garden, a community needs care and nourishment to grow. Its components must coexist peacefully in order to survive. Imbalance means rapid decay.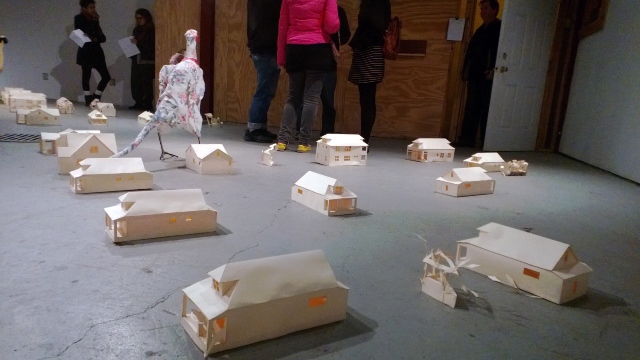 Sarah Wagner's intelligent, methodical approach to making and vision of a deeper social and spiritual engagement for contemporary art is refreshing. It makes sense that the efficacy of our visual language as a force for change in the world be put to a more serious test since visual language hovers next to aural and written language, seeking similar connections of object to subject by different paths. Wagner is doing just that right now—the evolution of her formal narrative of hope should be interesting to watch.