John Corbin
Level & Plumb (10 June-6 August 2016)
Susanne Hilberry Gallery
700 Livernois
Ferndale Michigan 48220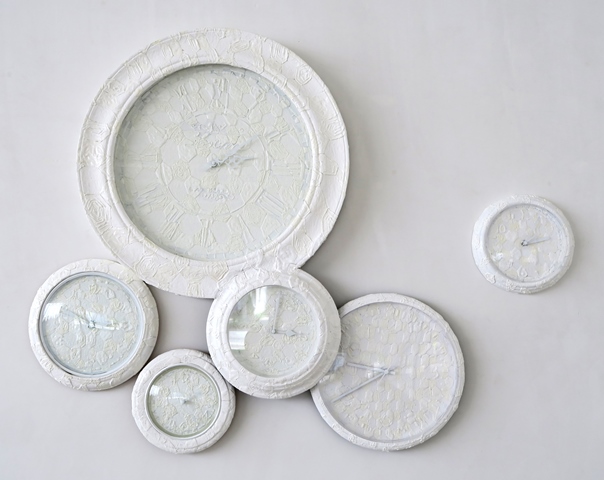 John Corbin
Time Cloud, 2016
acrylic, oil, tempera on clocks
40 x 36 x 3"
John Corbin loves puzzles so much he makes his own. His pieces are carefully selected materials (clocks, maps, animals, sentences, geometric shapes), that strategically fit together, forming brand new physical and conceptual structures.
His 1995, "Three Ships," is a sculpture of fastened together, round, individual wood framed paintings on a clear acrylic gel medium, depicting each of the ships of Columbus's first journey  (Nina, Pinta and Santa Maria). The result is a blurred view of the three vessels. You never see just one clearly separated, a condition which echoes the legacy of the journey itself: brutal colonialism, introduction of spices to Europe, the lasting results of both. At the time, Corbin's Brooklyn neighborhood was experiencing gentrification. A coffee shop that served organic pastries opened at the end of his block, displacing an Italian tailor whose family had been there for decades.
In 2003, Corbin made a series (also using the clear gel) depicting individuals from Harry Mathews's character-driven novel, Cigarettes, in ways that linked each person to all of the others. A character, "Lewis," is depicted as clear, no color. The top center lines radiate out of "him," and link to his relationships with other characters (there are thirteen) and plotlines.
Again, Corbin's interest lies in the tensions, the difference, between things standing separate and woven together. Lewis is one thing alone, a complete other in the book's context.
His 2011 exhibition, Gierlmandy, at Cue Art Foundation in New York City, conflated elements of two countries, Germany and Ireland, to make an imaginary land. There were paintings and sculptures (including a bed with a bookcase) combining the two countries in ways that  mapped a new potential geographic and cultural region. He compiled a text, The Sorrows of the Artist as a Young Man, that meticulously merged   two complete novels, considered classic young male coming of age stories in each country: Johann Wolfgang von Goethe's, The Sorrows of Young Werther (Weygand'sche, 1774) , and James Joyce's The Portrait of the Artist as a Young Man (B. W. Huebsch, 1916).  The combined narratives were  made into a traditional bound volume. The tenor of each voice was maintained but the voice of Goethe ( I bowed my head and vowed: 'Never shall I dare to kiss those lips, on which heavenly spirits hover.' ) followed by the one of Joyce (Little fiery flakes fell and touched him at all points, shameful thoughts, shameful words, shameful acts)1 made for a new tone altogether.  Reading it is an odd pleasure (hilarious and heartfelt), and questions tug: where does voice come from? How about nationality? What sorts of expectations were these young men facing?  In other words, questions about how meaning and identity are made and maintained.
In his latest show at Susanne Hilberry Gallery, Level and Plumb (level means straight side to side like a shelf; plumb means straight up and down like a tower or wall), Corbin investigates how many things considered fact turn out to be fiction. He takes on supposed "truths" like measurements themselves. Is a "straight" line attainable? Does the Earth have a top? Are maps accurate? How do we tell time, perceive the shape of a country, ocean or mountain range? Are humans more evolved than wildlife? The show has a brilliant tension between the pull of the known past and the unimagined future. Consider his two main source materials: atlases and wall clocks. Both were relied upon (until not so long ago) for measurement. Now, they are obsolete as necessities, but hold a nostalgic, fashionable charm.
Shinola watches are one example.
In "Time Cloud," six wall clocks are covered in different layers of white acrylic, oil and tempera. Multiple hexagons and the numbers of the clock are elevated, just barely visible.  The clocks were set at the beginning of the moment the exhibition opened (4 pm). Through the course of the show they ran irregularly.  Gallery visitors could hear ticking, suggesting time's  forward movement even if the clock's measurement of the time was inaccurate.  I considered ways we measured time before clocks (hunger, the sky?) and our reliance, now, on things digital and also wondered when will people no longer know how to read clocks.
Skill sets lost and gained are also questions posed by his series of map collages, "Drift."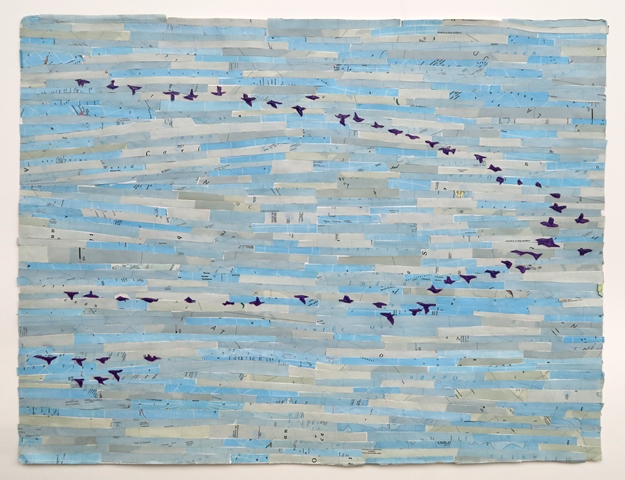 Drift, Cranes, 2011
acrylic, map collage
18 x 24" paper
22-5/8 x 29-1/2" frame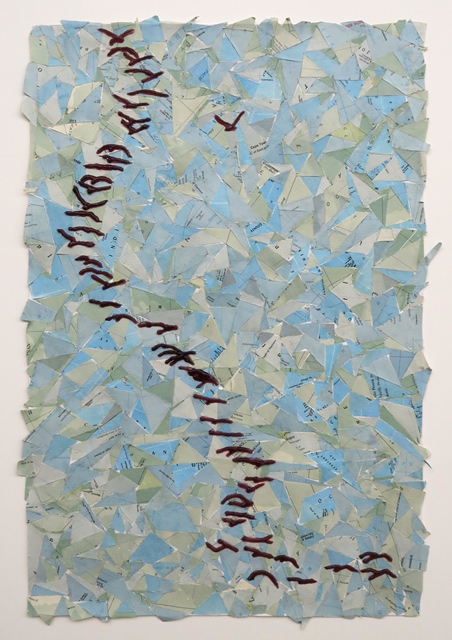 Drift, Cranes, 2011
acrylic, map collage
18-1/2 x 13" paper
22-3/4 x 17" frame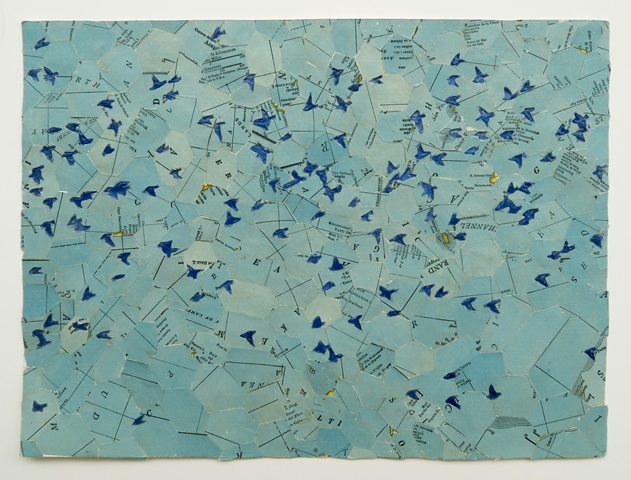 Drift, Pigeons, 2012
acrylic, map collage
9 x 12" paper
13-1/2 x 16-1/2" frame


Corbin makes a tapestry background from hexagonal pieces of atlases cut out with scissors and an exacto knife. On them, he places wildlife (cranes, pigeons, butterflies) with consistent, and intricate, mating and migration structures.
An atlas used to be a valuable family item, passed on (like a watch or set of encyclopedias) through generations. Now you can buy them, in bulk, for a few dollars at garage sales. This change, along with the realization their measurements were inexact, made me think of the changing narrative of individual family histories. Somehow, over generations (or even the course of an evening), these stories change with time, especially depending on who tells the story. History, and measurements are operating theories, not truth.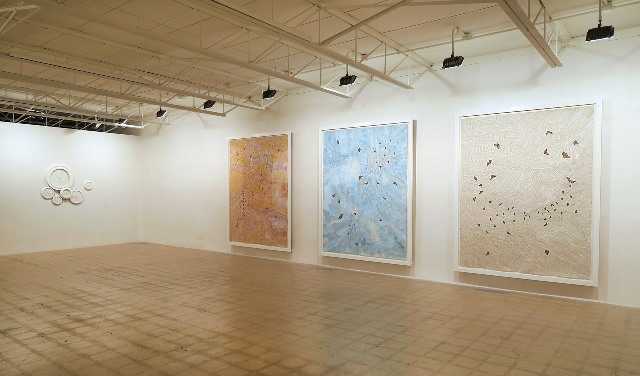 John Corbin
"Level & Plumb"

The works in "Level and Plumb" exuded a deft blend of stasis and motion. You cannot help but get caught up in their gentle sweep. Viewing them felt like an experience I often have when looking at a mellow sky or lake. What begins as a low key experience turns into a marvel, How big, how blue, how beautiful.2




footnotes


1 John Corbin, The Sorrows of the Artist as a Young Man, 1997, p 118

2 Florence and the Machine, 2015.