Last summer, Jackie Rines vacuum-sealed a selection of her possessions, strapped them to the interior of her black Transit with bright purple elastic and set out on a cross-country road trip with University of California at Los Angeles as her destination. Rines's parting gift to Detroit was a 35 foot monster wrought with all the materials she had to leave behind.

What happens when a multi-media artist jettisons nearly all her materials? She wastes no time finding a new source.

For Rines, it was the California plant life that caught her attention. She remembered the foliage as a bizarre, tropical movie set from her past visits to L.A. This time, massive aloe bushes inspired her to slow down and take in the plant life. Lightly touching the Los Angeles succulents became her first introduction to her new home.

Rines hadn't accounted for this type of soft landing when envisioning her move. Outfitted with a studio in the ceramics department at UCLA, Jackie started seeking out her supply spots, a citywide scavenger hunt including monthly visits to the flower district for material.  "In the flower district, there are what almost feel like drive-thru floral shops with very opulent funeral arrangements for sale. I'm enamored with them because they are so orderly and almost deny letting the flowers be flowers (fig. 2)."


figure 2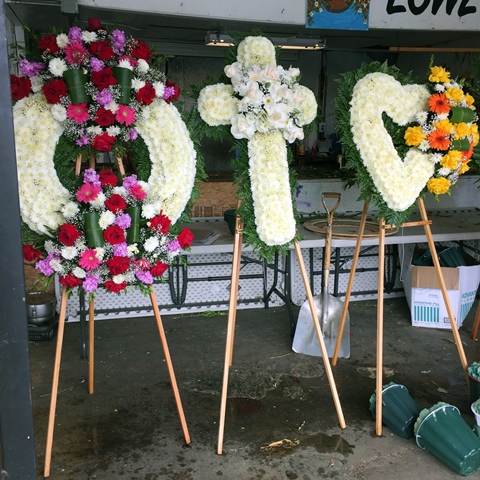 Flower District
Los Angeles
Image courtesy of Jackie Rines.
Bouquet materials as inspiration are a marked departure from Rines's Detroit-based body of work. "I am working with the craft shop stuff that is sold in bulk at the flower district. I am experimenting with Egyptian Paste (self glazing clay) right now. It holds vibrant color well, but so far in my testing it is unable to hold complex color like oil paint. I like that tension and maybe that is why I like the flower arrangements."

In Detroit, her focus was on the façade detailing of buildings. "When these details are in disrepair, it becomes easier to see how they were made or assembled."

Rines works to parlay this understructure to the viewer. Chipped ornaments gain stage-time in nearly all of her assemblages, and seeing the way these objects are both undone and prominently staged is seeing how they are un-built. There is a playfulness and a crudeness to the surface of these works as they unfold at graduate school in Los Angeles.

Rines bound her first UCLA clay installation to the ceiling of her studio in preparation for her critique (fig. 3). She denied letting the clay be clay. Minutes before her critique, every piece of clay dropped from the ceiling and cracked on the floor (fig. 4). She didn't intend for it to happen, but the audience was receptive, an outcome that Rines found hilarious in her characteristic good humor. This humor and ease is packed into the experience of walking through one of her installations.


figure 3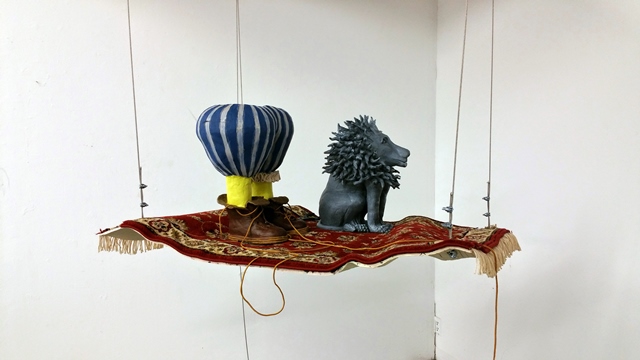 Jackie Rines
Untitled (overlord with a pet cement lion), 2014
clay, paint, wire, fiber
Image courtesy of Jackie Rines.


figure 4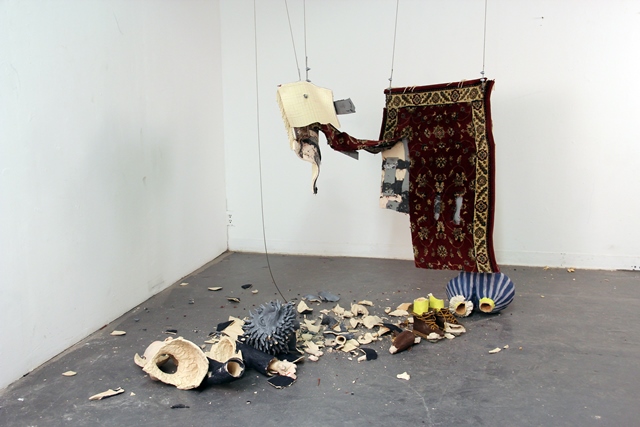 Jackie Rines
Untitled (overlord with a pet ceramic lion), 2014
clay, paint, wire, fiber
Image courtesy of Jackie Rines.
In the wake of her near catastrophe, Rines's opaque clay sculptures have taken on an ironically transparent quality. They are see-through like cages and baskets, not porcelain (fig. 5). Rines has become the solid in the open-weave structure of her installations. It is most apparent when she gets inside the kiln to build pieces that can't be moved until they are fired (fig. 6).

figure 5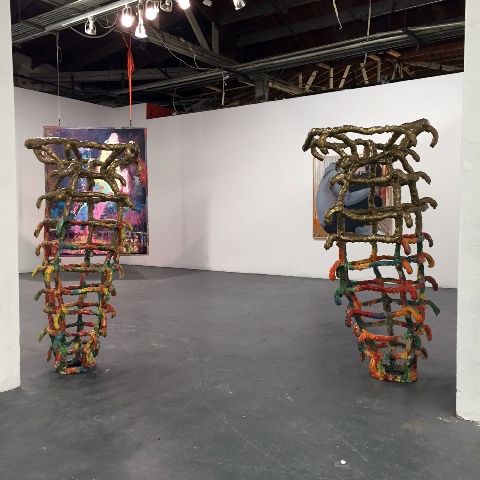 Jackie Rines
Dick Pots, 2014
ceramic, glaze
Image courtesy of Jackie Rines.


figure 6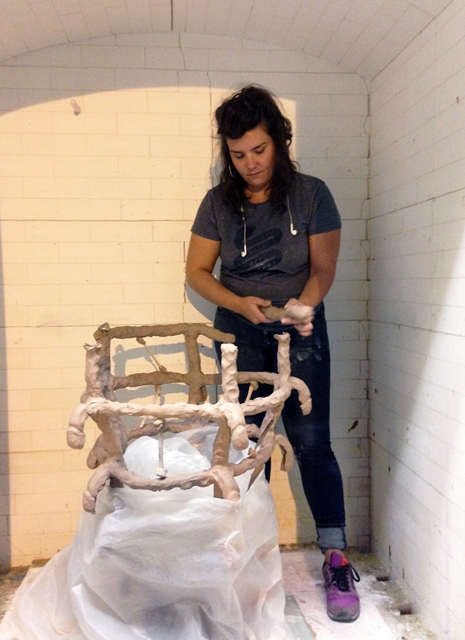 Jackie Rines
Dick Pot, 2014
clay
Image courtesy of Mitsuko Brooks.
Rines's working process reveals the themes in her artwork. Timing, control and the understanding that power requires rest as much as it requires strength-- creates space to exhale and laugh at how wonderfully amazing it is to be fallible. When power and structure relaxes, fecund creativity occurs.

Both Detroit and Los Angeles provide a sense of abundance that inspires Rines's work. Graduate school has become a catalyst to step away from her home and consider new ways of working. Access to a group studio at UCLA is giving her access to an unresolved space, which allows the work to shift and open. Nothing is better than the space to make without prescribed results. One year in, and Rines is making an alluring body of work.