Claire Ashley
Lank Limp Lemons Suck (29 August - 19 September 2015)
Youngworld
6121 Casmere Street
Hamtramck, Michigan 48212


When people ask if I incorporate angels into my double agent career I answer, sometimes.
Then tell a story.
Here is one:
Our neighbor opens the family basement to her young son, Jeb and friends, so they can engage and expend energy within the contained space.  She names it Fort, after her childhood tree-house, a tribute to the unsupervised, often happy, ultimately bittersweet, hours spent there. Fresh air and freedom lead to some trouble resulting in her father tearing the place down, which is why she gives her son a basement, not tree-house. The boys meet for years and are in high school when this story takes place.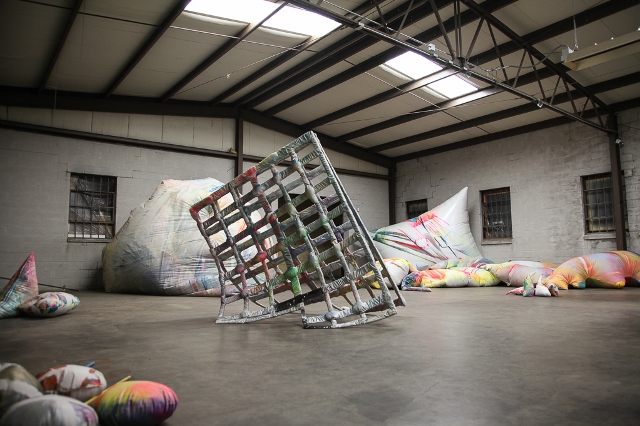 Claire Ashley
Lank Limp Lemons Suck (29 August - 19 September 2015)
photo courtesy Youngworld

Fort has posters, a record player, comics, a refrigerator,  taxidermied deer bust and wall of resin encased bugs.  Its separate entrance way does not lead into the home, proper. Now, instead of Lego, holsters and Tinker-toys, boys bring guitars, amplifiers, grass.
I hang out there, the only girl, welcomed because I wear lipstick and ignore them. What do I get from Fort?  Peace.  I have problems with mental focus; only there can I lose myself. At this time it is in a book, Our Mutual Friend by Charles Dickens, mostly because of his character Eugene Wrayburn. Witty, flawed, physically frail, ultimately redeemable. "I hate," said Eugene, putting his legs up on the opposite seat, "I hate my profession."
He is a lawyer.
The boys listen to and play music, get high, banter. I read and think. Fort gives us all space to do what we want; it makes school days endurable.
Then.
Jeb's uncle comes to town, boarding, temporarily, with the family. He hangs out in Fort, radiates helplessness. His appearance is disheveled; dirty yellow jacket, thick glasses, poor posture, heavy gait. Minimal eye contact. The boys don't register his presence but I do; periodically put down my book and ask if he wants something to eat or drink.
So it is a shock when, one evening, walking home from piano, I see him standing in an ally changing clothes: Glasses, jeans, smudged yellow jacket go into a duffel; on go track pants and a form fitting shirt. His eyes, I can see from a distance, well, with binoculars, are penetrating blue.  He moves like a panther. He is a liar. My pity turns to thrill.  Attraction.
For now, all I will say, because this is a whole other story, is one thing leads to another: he harms and leaves me for dead.
But I don't die. Thanks to angels I survive.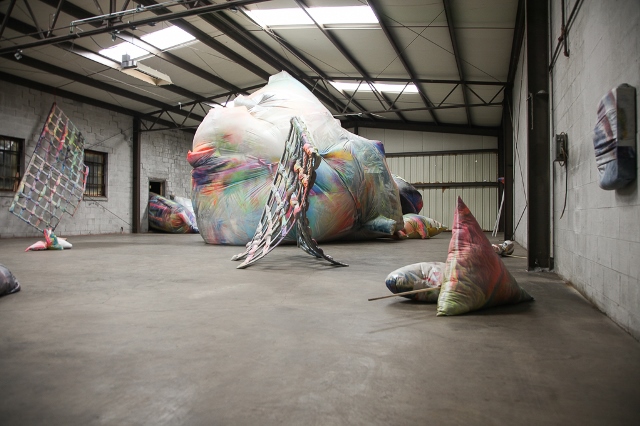 Claire Ashley
Lank Limp Lemons Suck (29 August - 19 September 2015)
photo courtesy Youngworld
And for a long period it is in a temporary border state.
I am partly in a hospital bed, on life support; partly airborne, disembodied. I see but am not seen. There is poetry to the invisible but practicality as well. Especially when mixed with the power of action.
Initially, I want to inflict harm on this uncle. Push him into traffic, stab his eyes, lop off a hand. But the angels intervene.  They shepherd me back in time. We visit his childhood and when I see the things done to him, my heart breaks. I want to cradle this small boy in my arms, take him to safety; I'd gladly trade my life for his if there could be a way to keep him from the inflicted damage. But that is not possible. Feelings of revenge melt into a wide open heart, momentarily unprotected. But the angels force me to face what I want to ignore:  That was then, this is now. Excessive mistreatment constructs a nasty adult. He leaves a victim trail. I am not the first and won't be the last.
The reality check turns my lens to justice.
As much as I want to – and know I can –kill, I strategize.
Sweep into my home, get a baggie from the kitchen, my high school photo id, and a monogrammed charm bracelet from my dresser. Then I fly to the hospital, see myself pale, barely breathing, hooked up to machines,  cut a lock of my hair,  add it to the baggie. By now school is getting out. I hover over our neighborhood until I see him heading home, swoop down, insert my package in his pocket. Then get to the top of Fort's stairs and wait. I hear the boys. I know they talk about me but I do not want to listen. At this moment I am one hundred percent mission driven. When he enters, as I know he will, I trip him; he topples downstairs. The boys call an ambulance that takes him to the hospital. During his treatment process my planted evidence is found. He is apprehended, subjected to the wheels of justice.

Claire Ashley
Lank Limp Lemons Suck (29 August - 19 September 2015)
photo courtesy Youngworld
I worry.
Not about him but me. About my lack of emotional judgment. It tells me I might have a knack for spying but I do not work well unsupervised. If I have any hope to continue in this line of work I need the guidance of some one or thing, and for now it is these angels.


* this text is based on a re-combinatory improvisation with two lists,
performed at ApexArt on 17 November 2015 for the Double Take Series (#14). The series asks award winning and emerging poets, novelists, editors and artists to trade takes on shared experiences. Lynn Crawford and Matvei Yankelevich considered the word border. Read Matvei Yankelevich's "What We Would Cross Freely".