I once had a painting professor who said "artists are positive, constructive citizens of the community". In the mid-seventies, as I was about to enter the undergraduate painting department at Wayne State University, I met Richard Bennett (fig. 1). Richard was exhibiting his sculptures and some small, wire Kitemen sculptures. Richard was the first Detroit artist I befriended. We've been friends since. Over the years, we've had many discussions about art in general and the Detroit art scene.  Bennett has shown his work at SOFA Chicago, The Jacob Javits Center in New York City and the Design Center in Troy, Michigan. Richard remains a positive force in the art community.
figure 1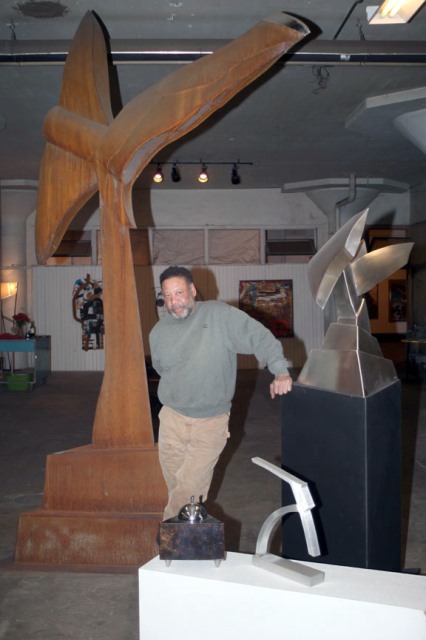 Richard Bennett
24 April 2015

Saffell Gardner: Who's in your top five?

Rrichard Bennett: My top five what?

SG: Who do you listen to while you're working?

RB: Pharoah Sanders. Donald Byrd. Isaac Hayes. Hendrix and Santana.

SG: That covered everything.

RB: Let me tell you why… It's about good music stimulating my imagination. That's all.

And it's all about stimulation. Mental,spiritual and physical.

SG: What inspired you to be an artist? To be a sculptor?

RB: Richard Hunt and Picasso.

SG: O.K.

RB: And, I felt as though, from the love of my parents, I received their DNA being creative Black people. I think it gave me a gift. So, it's all about having a vehicle to display your talents and metals was my thing.

SG: Were you an artist in school?

RB: I did have art in public school, yes. I'm just a high school graduate, but I have been technically trained and I've had some great training on fabrication, engineering and welding. Practical, hands-on.

SG: Early on, did you have art in school?

RB: Early on in school, yes.

SG: You had art classes. Do you think that might have laid a foundation for you?

RB: Right, I won my first award in woodshop in elementary school maybe in the 7th or 8th grade. I built a table. Detroit Public Schools had an annual woodworking award for public schools. Back then, when white people were still in the Detroit Public Schools, the majority of people in public schools were white. Mr. Hashton Cobal was my woodworking teacher, and Ms. Vanantwerp was my art teacher back in elementary. When I went to junior high, Mrs. Denny was my art teacher. It's amazing, you just triggered something, I still remember their names because of the impact they had on me.

SG: O.K., that's what I'm looking for.

RB: And they were raw. They were people who were very creative and put it out there. They, like Edward Newbie, my drafting teacher in high school, saw a little talent in me. They got me on the road of understanding the technical knowledge of reading blueprints, drafting, symbols and stuff like that. Which started laying the path for my commercial or more engineering style work that I do for folks nowadays, which has kept me in business. I can sculpt and I can do the art thing but the money making part of my business is fabricating, drawing blueprints for architects and designers as well as executing their visions and dreams along with my creative input.
SG: So, through your public school situation where you worked in woodshop, you learned how to read blueprints and things of that nature that really laid your foundation for understanding what you're doing now?

RB: Absolutely. And with the love and understanding of my parents, who supported a child's vision, which was a unique, out-of-the-box type vision because most people wanted to try to go out and get them a job with somebody.

SG: Right, right.

RB: Back then, when I was coming through high school, the thing was, when you graduate, to get a job with one of the Big 3 (Ford, Chrysler or GM).

SG: Yeah, do your 30 and out.

RB: But, when I announced to my parents that I wanted to take a different path, they were very supportive and helped me build my first studio. They had my back.

SG: Briefly, what kind of work did your father do?

RB: My father was a truck driver.

SG: O.K.

RB: My father had a 4th grade education, but he owned several 26 wheelers. He was in the demolition and hauling business. The man had a 4th grade education and raised six kids and made good money during his lifetime. He supported us.  It was amazing to see and was where I get my inspiration for self-employment.  You can make it in the world self-employed, but you have got to have some gifts for service and you need to have a vision as to how you approach the road and make a living off of it. That's so important.
SG: Briefly, what kind of work did your mother do? I remember her. She had some fantastic gardens.

RB: Well, my mother was a homemaker and had six kids, but was very creative at landscaping and gardening and she would do all kinds of things, creatively, like build furniture and stuff like that. My grandfather on her side was a watchmaker. The technical, engineering and creative spirit came through her side as well. She had a great understanding of it. It's interesting when two people mate…

SG: Right, right, what comes out.

RB: And it's not only after they mate, it's what kind of influence they have over the household with you after your birth and your personal development. It's all about love. Love is a powerful thing.

SG: Right. Which one of your pieces would you say is your favorite piece of artwork?

RB: I have a piece at home called Grey Swan, which is a spontaneous, futuristic and contemporary piece. I think, also that Helms Chair. Those are two of my favorite pieces.

SG: Would you say Grey Swan and Helms Chair are pieces that really set off some different things in you that led to doing the line of work…

RB: Right.

SG: O.K.

RB: You get inspired or stimulated by different things and the deco era back in the day was stimulation for me. While understanding and studying African art, another favorite piece are the masks at the Wright Museum.

SG: I wanted to ask you about the masks, but I wanted to ask you about them in terms of which came first-- the masks or the gazelle on Belle Isle, you installed. How did that happen? Wasn't the gazelle before the masks?

RB: Yeah.

SG: O.K.. How did that happen?

RB: Actually the gazelles came as I was doing some work on a bandsaw. I was cutting some curved pieces and, after I would cut the pieces and throw the scraps on the ground, I turned around and looked at the ground where I found the image. I said 'wow man, that looks like an antelope or a reindeer. It has a contemporary form. I just started working it and developing different styles and shapes of it and people saw it in the show and decided they wanted to try to raise some money to realize their project.

SG: So, that's how it got from being on the shop floor out to Belle Isle?

RB: Right. It was totally spontaneous.

SG: Hopefully, that piece will remain on Belle Isle.

RB: Yeah, actually, the design is for three to four pieces ranging from 15 to 20 feet high and I would like to get at least two additional pieces installed. Or, at least, one additional piece installed. I'd like to get with some organizations to raise some funds to build a herd or small herd to emulate a  family grouping including animals and people. It doesn't matter what kind of entity you are…

SG: How did you get from that piece on Belle Isle to your commission for the masks at the Charles H. Wright Museum of African American History?

RB: The architects, Sims Varner and Associates, were commissioned by the City of Detroit to build the Charles H. Wright Museum of African American History when Coleman Young was in office. We did the work over there and everybody loved what we did and, as soon as the museum ribbon was cut, Coleman says 'we gotta build a bigger museum'. So, they started raising money immediately to build a larger museum. Well Sims Varner again got the contract to design the project and, with the relationship from the first project between Harold Varner and Howard Sims, I was called into work with them on the new museum of African American history. I was really, really blessed, but it's all about people understanding your capabilities and your track record and your ability to deliver on a schedule basis, I mean, being professional. When I met with Harold Varner, he says: "I'm going to make you famous but I'm going to kick your ass along the way". I tell him "come on, bring it man". It was one of the most creative, spontaneous times of my life and a lot of pressure. There were days I sat on the edge of the bed and cried, but it was a project of maybe about two and a half years that changed my life.

SG: Along the way, where does Richard Hunt fitt? I know when we met at an art fair in Harmony Park, the next time you probably had a major piece was the gazelles and, then, there were the masks at the museum. So where does Richard Hunt fit into the timeline?

RG: That was all prior to me doing the piece on Belle Isle and prior to the museum work. I was still working with American Standard at the time and working at the industrial products division. We were building heavy, industrial products and shipping them all over the world, which was a great experience within itself as far as fabrication, engineering and working with different materials and metals and things like that. During the ten years I worked at American Standard, guys would take a break to go deer hunting and take a leave of absence. I spoke with the human resource department and asked them if I could take a week to two weeks yearly to go over to Chicago to work for this world-renown sculptor and they said yeah, that's fine. While other guys were going out shooting deer, I went over to Chicago and worked in Richard Hunt's studio. Working with him and under his mentoring was a unique experience on showing me how you can make a living as a sculptor. Like I said, you have to be professional about it, put the best quality in your work and take the liability factors into concern when you're doing public art because you don't want anybody to get injured and hurt. It was a unique experience to see a man building things that were in his vision and making a living from it. That was a great inspiration to me.

SG: What was the time span?  Would you go every year throughout your 10 years? How many years in a row?

RB: I made it to Chicago about five or six years. Any other time, when I was on vacation and things like that, I would get to Chicago. Or, if he was doing an install somewhere, had a show coming here to Detroit or anywhere in the area where I could make it, I would make a point to get over there and put in some time with him. Just get exposed to that kind of way of making a living as a sculptor.

SG: You have, probably, a 25 – 30 year relationship with Richard Hunt?

RB: It's about 30 years man. Yeah, cause I'm 60 now. I don't feel it right now.

SG :At some point, you were involved in a design studio.  What was that like?

RB: Yes. It was called the DARIS design group. It was a collaboration of myself, Steve Evans (fabricator, woodworker), Damon Davis (Graphic Designer), Ann Marshall (painter) and Jerome Hughes (airbrush artist). We all collaborated to make screens and furniture, unique work that was based on Egyptian-centric design. The group was together between 1975 and 1982 and showed in Toronto, Chicago and New York. Around 1984, I incorporated Richard Bennett and Associates.

SG: Is there any work still around from DARIS?

RB: Well, we did work for private collectors. There are some carved, wood doors at the Charles H. Wright Museum of African American History that go into the museum and carved, wood panels leading into the multi-purpose room. At that point in time, we brought on another artist, Betty Kay Martin, who extraordinarily carved wood. She carved the house post on the corners of the panels.

SG: Did you begin showing your work at the Michigan Design Center in Troy after DARIS dissolved?

RB: Yes. I leased a vignette for a couple years to display my work.

SG: I want to talk about your place when you were on the northwest side of Detroit (fig. 2).
figure 2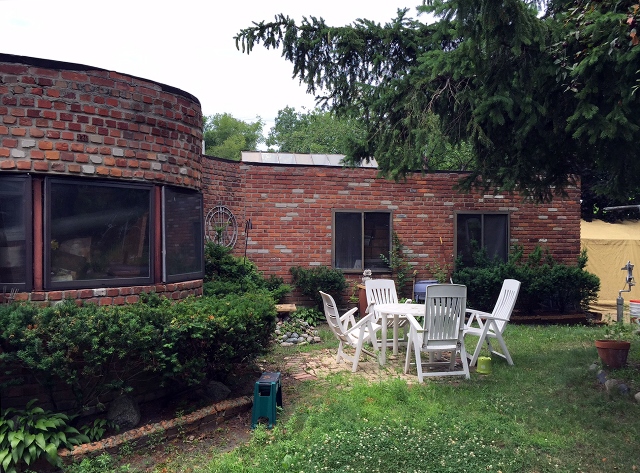 Richard Bennett studio on northwest side of Detroit
13 July 2015
RB: Yeah, that was interesting, too… I got all the bricks to build my studio from the old Uni-Royal building. I would take off work when I had a pickup truck and go and load up 500 bricks a day. I built the studio from the ground up. That's when I was telling you about my father. My father was in the demolition business. If there was a building slated for demolition, he was there to haul it away after it was knocked down. He'd say, "hey, Rich, we're tearing down the old Uni-Royal building. There's a lot of used bricks here, so, you know, when you get off work, come on down and load up the bricks. I can talk to the operators and you got a clear way."

SG: That's interesting, my father was what we call a hustler. He would pick up scrap and newspapers and, then, we'd go break up big boilers and stuff and get the iron and sell it. We had that same kind of upbringing where you were taught how to work.

RB: And, you saw monetary value in things that people will take for granted. Some of the wealthiest people in the area own scrap yards. They're taking materials and looking at the Wall Street stock market and, when the price on precious metals or semi precious metals is at the right point, that's when you sell. And it's all about demand.


Part 2

SG: What was your inspiration to build the studio behind the home you grew up in?

RB: First of all, it was a double lot. So the space was there. Behind the house, which is maybe about 1,200 - 1,400 square feet. There's something about a studio space. And with my mother in the back gardening and the way we went through building that, I think a good aura transponded into the spot. I've had several spiritual people come by and make the same comment, that Ogun lives here. I think the spirituality of the spot where you're creative is really important. I worked over in that studio for 20 years…

SG: You said you worked in your northwest side Detroit studio for about 20 years?

RB: I've been here 14-15 years on Brainard Street and, prior to that, I was at either the shop space on San Juan or down in the basement.

SG: You were able to move your studio out of the basement. I remember, coming over to your studio and with my son. He was maybe about four or five years old. I just wanted him to see people in their environment doing something other than the regular. Of course, he'd seen and grew up in my studio. When you built your studio, I recall it being circular with a sky light. Was it circular?

RB: Yeah, the back end of it had a radius. I'm into curves, man, angles and curves. The back portion of the studio was like a half-circle and I put glass in the back to get light in the shop. There were three skylights in the shop. There was a main skylight in the main work area, I had two, smaller skylights in that back area. It's all about utilizing natural light. There were some beautiful trees growing on the property you could look up and see jets flying by, see trees swaying in the wind, birds and things like that. It was then my mother had a bunch of fruit trees planted around the studio where you could walk out the back door, grab a pear off the tree, grab some apples and English walnuts during harvest time. It was a real natural thing.

SG: Several of the pieces you've completed in your studio on Detroit's northwest side. You created the doors and the masks to the Wright Museum at the home studio?

RB: Yes, the Masks were built over there. I just had enough height in the main skylight to hold the fully-assembled mask while standing upright to work on it. Essence of Opposites I built in the studio, also, and is over in front of Noel Village.

SG: Where is Noel Village?

RB: It's over there by the Coleman Young Recreational Center on Chene Street.

SG: O.K., I know the area.
RB: I built it right out in front of the shop where I had a big I-beam going out front with a pulley and chain hoist on it. The structure only had 10 foot ceilings in the building and the sculpture was 12 feet. We built the signage for Greektown International Fashion Center over in Greektown as well. It was a lot of nice, hot pieces that came out of that shop.

SG: And the one you said was Noel Village, what was the name of that piece?

RB: It's called the Essence of Opposites.

SG: The Essence of Opposites.

RB: Like a play off of yin and yang.

SG: O.K.. That's over near the Coleman Young Center in Detroit.

RB: Right, right.

SG: Those were some of the major pieces that came out of your studio. At what point did you decide to move here to your current studio on 470 Brainard Street?

RB: Well, after being on the northwest side of Detroit, I just needed more. Mainly, I needed more space and, during the time at my northwest side side studio, I drove around taking a look at various neighborhoods, seeing what was available for sale or for rent. I came across a piece of property that was on the city ledgers and available for sale, as is, from the City of Detroit. Then, I inquired about it and went down at the City Planning and Development. I inquired about that and put my bid in and was lucky enough to get the property here.

SG: O.K., In developing your studio 15 years, you've gotten it to the point where you've developed it into a studio/workshop/gallery.

RB: Right, and, on the second floor, I want to live and lease out rental space.

SG: Right, and the second floor rental space is available.

RB: And a home.

SG: And maybe a residence for yourself at some point.

RB: Ain't no maybe about it.

SG: O.K., at some point a residence for yourself.

RB: Right. Myself and my lovely wife.

SG: Right, your wife Terry.

RB: My lovely wife Terry.

SG: O.K. In the meantime, you've been developing some other pieces. I see some other work in the studio, some new work that you're picking up on… maybe you can talk about your inspiration now. In the past, your inspiration has been maybe Richard Hunt, maybe some other sculptors, but maybe you're onto doing your own thing.  Maybe you can talk about your inspiration as an artist and also a community developer.

RB: Yeah, I do a lot of works for private homes like staircases and custom pieces, working with designers and architects and homeowners. It's really rewarding to me because it still has a really creative edge to it and challenges that cause me to mentally grow. As far as my influence goes, mathematics has always been an intricate part on my creative journey or my creative design. I've always been into angles and curves and geometry. One of my strong suits is producing some good quality work by putting in the time to blend the wells and add some kind of decent finish on it. I'm into a lot of cosmic influence. I do believe this planet has been visited by other beings that aren't born here or developed on this planet, extraterrestrials is what I'm trying to say…

SG: Right, just something we haven't accepted yet.

RB: There's a cosmic and a spiritual field that we feel in our gut or feel in our soul or spirit that you don't quite understand and I think that's part of my inspiration. I can see a lot of my work is planned, but I like working in the abstract animal theme because those are some of the most beautiful creatures on the planet. The different types of animals that we're exposed to and live with a cosmic thing that's kinda evolved in my work as well. Its more of an homage to nature and to the spirituality of man and doing a free form type of work or work that has a certain type of influence.

SG: I want to ask you, what do you see for your future because, as an artist, you know I like to call artists visionaries because artists always seem to be 50 years ahead of their time so, what do you see for the future of your artwork and the style of artwork that you are working in?

RB: I'd like to evolve it into an incorporated business with two or three people, which is really hard. I'd like to evolve. I got certain areas of my creativity that I really feel good about and other people have felt good enough about my creations to purchase them and have them in their home and living space. But I'd like to develop my furniture designs even further, as well as my sculptural designs, and ,periodically, I'd like to get out of this contracting thing and just focus on the creative thing. It's one thing of having the financial wherewithal to handle the demands. But I'd like to see myself evolving more into the sculptural and furniture accessories part of my business that I have right now. Contract work pays well and is creatively rewarding, but it's also very demanding. But, you gotta do what'cha gotta do.

SG: Right, O.K. Well, we'll leave it right there.