Detroit's city differs from those of modern measure; too low on fuel to support public transportation, firemen, policemen, street-lighting. There are levels of uncertainty in a city of this caliber; its post-apocalyptic nature resembles that of Neverland, where creatures run free in an overgrown landscape without concern for time or law. News reviews produce results of blight and disinterest as it highlights the blemish we have left on America's reputation; its formlessness is unclear enough to drive any educated man mad with desire to stabilize it. But this jungle's sincere function does not apologize for its wild and undomesticated self. It continues on to follow the influence of imbedded patterns supported by the drive to continue on with the growth of its own unique existence.
figure 2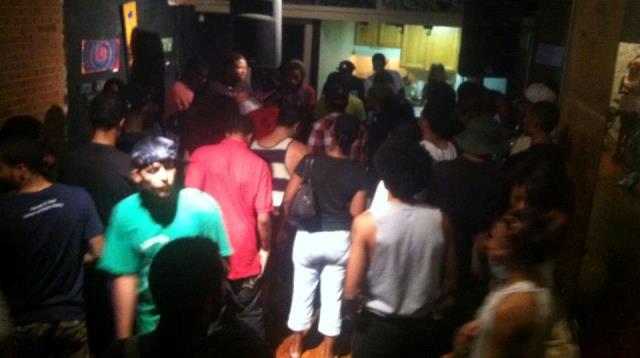 Untitled Bottega
Untitled Bottega, a community arts space and open gallery located in Detroit, built by and for creators. The Bottega is just the first of many performance and installation spaces which will make up the Untitled Campus, a community based on giving new and upcoming local creators a place to learn, build, and exhibit.
2012
Photo credit: http://after5detroit.com/event/the-untitled-bottega-grand-opening/

Underground describes an alternative culture which either considers itself different from the mainstream of society, or is considered so by others. The local grind employs modern movements that do not escape the surroundings, but  engage with them. To live in desolate structures, and walk the streets with walls that hold up world class graffiti and mural art, the various Detroit underground initiatives are inspired and effected by this wild world. A certain kind, of peculiar nature, are attracted to its open invitation to roam freely, live cheaply, and actively create outside of the typical studio space. Pockets of scenes emerge, inspired and driven by their most influential cultural backbone, and even those familiar to the city may be caught blindsided by local talent or new movements whose forces are powerful enough to leave them speechless. Builders of the underground are proud to witness projects like (_) Untitled Bottega, a venue that reliably host events showcasing the inventive work of Detroit's up and coming hip-hop and rap artists, Michigan Underground Group, a space that utilizes the Destroy Compound to facilitate and present fresh electronic music, or CAVE Gallery, an artist run studio / gallery project that reliably presents new works of emerging artists. As these kinds of environments are plentiful and essential as a haven to support  movements within the city, they are also attracting and inspiring a plethora of outside initiatives that explore the scope of needs and possibilities of a city this diverse, large and accessible. 

Many new ventures are taking inspiration from the local, underground scenes in Detroit, and providing above-ground platforms that draw global attention to support the soul-power and endurance of the cities contemporary history. The Beautification Project is a city wide venture that invites international artists to contribute to unique perspectives on art in the public domain. Contributing artists took inspiration from, while also taking part in enhancing, the already prominent and longstanding Detroit Graffiti scene. Detroit Electronic Music Festival, established in 2000, features musicians from local to international caliber as it continues Detroit's pivotal contribution to Electronic music worldwide. The city becomes a tech capital as DEMF prompts the local underground venues, like Adult Contemporary and North End Studios, to hold events of their own in respect for Electronic music. And Detroit Design Festival, a city wide event that pulls local artists and designers out of the woodwork. As it connects independent creatives with one another and introduces them to new markets and consumers, it also exposes a collective design aesthetic to national and global audiences. It is exciting to witness births that present foresight of a future of Detroit that resembles a prominent melting pot of musicians, artists, architects, lawyers, educators etc, and think about them in terms of how they could assist with the creation of a market for Detroit's creative talent.   
figure 5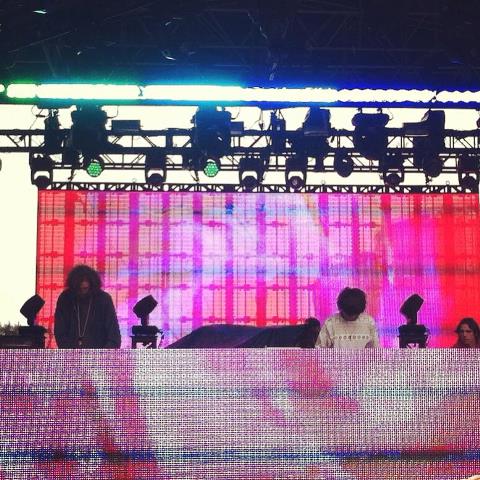 DEMF
Detroit Electronic Music Festival (featuring Detroit-based group DEASTRO), 2011
Photo Credit: Gustav Brovold
figure 6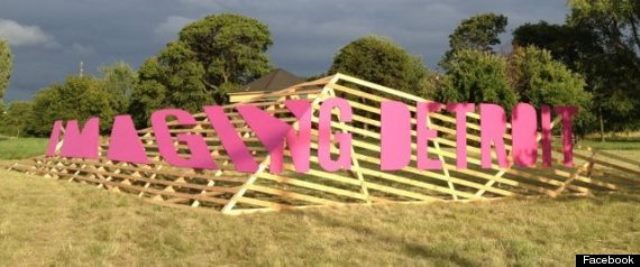 Detroit Design Festival
Detroit Design Festival Events Spark Creative Connection as designers are united and collective brainstorms consider Detroit as a database for young and emerging talent. 2012.
Photo Credit: http://www.huffingtonpost.com
But, it is important to consider a markets effect on liberty. Still, the most prominent and avant-garde movements in Detroit are underground. They take initiative in providing their own venues, production sites, curatorial practices and journals, and in doing so, recognize the importance of, and take full advantage of, the freedom that comes with that. These communities pound the pavement to break ground and the leaders wear many hats; their intensive efforts as business people, and courage as artists, assist in the creation of their own market, based on their own rules. Patrons and supporters are primarily those who are hungry for wild experiences and challenging insight on perspectives outside of the domesticated norm. And what is the relevance of experiences outside of the norm? Well, curiosity and bravery to venture spreads the scope of possibilities wide open. And if you're up to the challenge, there's a lot of it right under your nose. Just dig a little and pay attention.
Ashley Cook


http://en.wikipedia.org/wiki/Neverland

http://www.cavedetroit.com/

http://untitledbottega.com/

http://michiganundergroundgroup.bigcartel.com/

http://www.genomicon.com/tag/favela-chic/

https://www.facebook.com/contemporaryadults

http://northendstudiosdetroit.com/

http://en.wikipedia.org/wiki/Detroit_Electronic_Music_Festival

http://detroitdesignfestival.com/

https://www.facebook.com/TheDetroitBeautificationProject